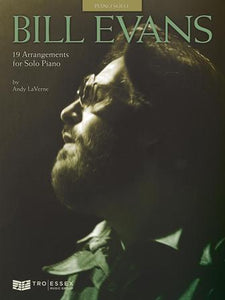 This exceptional songbook presents Bill Evans' most beloved melodies and songs arranged by noted jazz pianist/educator Andy LaVerne, himself a student of Evans. Titles include: Bill's Hit Tune • Children's Play Song • For Nenette (in both C and Db) • Laurie • Letter to Evan • One for Helen • Only Child • Orbit • Peace Piece • Show-Type Tune • Time Remembered • Turn Out the Stars • Very Early • Walkin' Up • Waltz for Debby • Your Story • and more. Features a reminiscence by LaVerne, with performance notes on his adaptations.
Click here for a CLOSER LOOK!
Arrangement:
Piano/Keyboard
Artist:
Bill Evans
Arranger:
Andy LaVerne
Series:
Piano Solo
Format:
Softcover
Item No:
AM00000116
UPC:
073999235050
ISBN:
634018728
EAN:
9780634018725
Dimensions:
12" x 9"
Shipping weight:
10 ounces
Pages:
80
Prices and availability subject to change without notice.