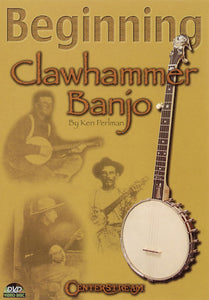 DVD
Ken Perlman is one of the most celebrated clawhammer banjo stylists performing today. In this new DVD, he teaches how to play this exciting style, with ample close-ups and clear explanations of techniques such as: hand positions, chords, tunings, brush-thumb, single-string strokes, hammer-ons, pull-offs and slides. Songs include: Boatsman • Cripple Creek • Pretty Polly. Includes a transcription booklet. 60 min.
Arrangement:
Banjo
Author:
Ken Perlman
Series:
DVD/Instructional/Folk Instrmt
Format:
DVD
Item No:
AM00000330
UPC:
073999746914
ISBN:
1574241524
EAN:
9781574241525
Dimensions:
7.5" x 5.25"
Shipping weight:
4 ounces
Prices and availability subject to change without notice.