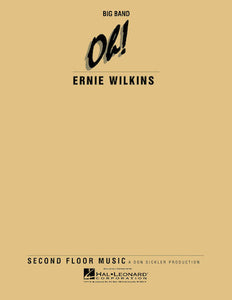 Big Band
In the best Count Basie tradition, here is an exciting burner from this respected writer. This chart features saxes off the top, hot brass punches and a driving ensemble shout to the end. Includes solos for Piano and Tenor.
Arrangement:
Jazz Ensemble
Artist:
Dean Pratt Big Band
Composer:
Ernie Wilkins
Series:
Second Floor Music-Big Band
Item No:
AM00000796
UPC:
073999007961
ISBN:
793548330
EAN:
9780793548330
Dimensions:
11" x 8.5"
Shipping weight:
11.5 ounces
Prices and availability subject to change without notice.
Instrumentation
| | | |
| --- | --- | --- |
| Instrument | # of Parts | Pages per Part |
| Full Score | 1 | 44 |
| Eb Alto Sax 1 | 1 | 3 |
| Eb Alto Sax 2 | 1 | 3 |
| Tenor Sax 1 | 1 | 3 |
| Tenor Sax 2 | 1 | 3 |
| Eb Baritone Sax | 1 | 3 |
| Bb Trumpet 1 | 1 | 3 |
| Bb Trumpet 2 | 1 | 3 |
| Bb Trumpet 3 | 1 | 3 |
| Bb Trumpet 4 | 1 | 3 |
| Trombone 1 | 1 | 3 |
| Trombone 2 | 1 | 3 |
| Trombone 3 | 1 | 3 |
| Trombone 4 | 1 | 3 |
| Piano | 1 | 3 |
| Bass | 1 | 3 |
| Drums | 1 | 3 |
| Guitar | 1 | 3 |