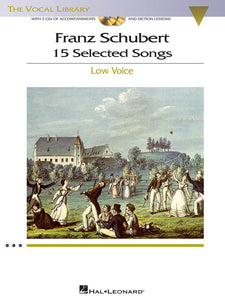 The Vocal Library - Low Voice
with online audio recordings of diction lessons and piano accompaniments;

includes historical notes, translations and International Phonetic Alphabet

A collection of essential Schubert songs for students. The diction lessons were recorded by Irene Spiegelman, German diction coach at the Metropolitan Opera. The diction for each song is recorded twice: first recited as an actor would speak it, showing flow of the language and the mood, followed by a slow, deliberate lesson, allowing time for the student to repeat each line. This experienced language coach adapts the "R" in German in the slow versions as recommended for classical singers. She is also very sensitive to liaisons between word sounds in the musical settings.

Contents: An die Musik • An die Nachtigall • Auf dem Wasser zu singen • Der Musensohn • Die Forelle • Du bist die Ruh • Ganymed • Gretchen am Spinnrade • Heidenröslein • Im Frühling • Lachen und Weinen • Nacht und Träume • Rastlose Liebe • Ständchen • Seligkeit.
Click here for a CLOSER LOOK!
Arrangement:
Piano
,
Voice
Composer:
Franz Schubert
Series:
Vocal Collection
Format:
Softcover Audio Online
Item No:
AM00001144
UPC:
884088185053
ISBN:
1423446666
EAN:
9781423446668
Dimensions:
12" x 9"
Shipping weight:
10.9 ounces
Pages:
88
Prices and availability subject to change without notice.