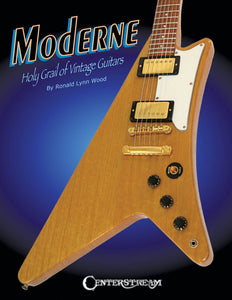 Holy Grail of Vintage Guitars
The Moderne is an electric guitar designed by Gibson in 1957 alongside the Flying V and Explorer as part of a stylistically advanced line. Sources claim that Gibson made a handful of prototypes, but an original has yet to surface. The Moderne was eventually put into production in 1982. Because of their very limited production and forward design, Modernes are highly sought by collectors. Here is the story, explained in interviews and photos, of this curious development associated with the golden era of guitar making.
Click here for a CLOSER LOOK!
Author:
Ronald Lynn Wood
Series:
Guitar
Format:
Softcover
Item No:
AM00001208
UPC:
884088273118
ISBN:
1574242415
EAN:
9781574242416
Dimensions:
11" x 8.5"
Shipping weight:
24.4 ounces
Pages:
208
Prices and availability subject to change without notice.