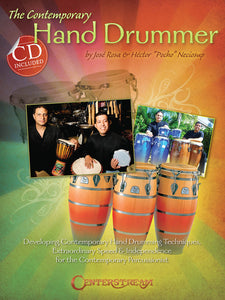 Develop contemporary hand drumming techniques with extraordinary speed & independence with this book/CD pack. The foundation of Afro-Caribbean music is explained, including the clave concept, and a comprehensive chapter containing the patterns of many of the most popular rhythms. Includes clear instructions, logical sequences, and sections on applying rudiments and on independence training which have applications beyond hand drumming.
Click here for a CLOSER LOOK!
Arrangement:
Drums
,
Percussion
Author:
Héctor Neciosup
Author:
José Rosa
Series:
Percussion
Format:
Softcover with CD
Item No:
AM00001213
UPC:
884088309091
ISBN:
1574242431
EAN:
9781574242430
Dimensions:
12" x 9"
Shipping weight:
11 ounces
Pages:
70
Prices and availability subject to change without notice.