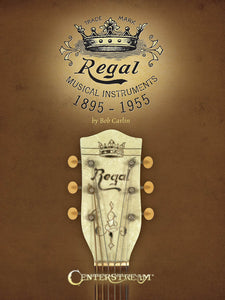 This item is temporarily out of stock. Please bookmark this page and check back later or contact us for a possible ETA.
Regal Musical Instruments: 1895-1955 is the only book to trace the history of the Chicago musical manufacturer. With its roots in Indianapolis, the Regal familiar to most collectors and players was spun off of music giant Lyon & Healy in 1908. Besides making ukuleles, mandolins, guitars and other stringed instruments for Lyon & Healy, Regal of Chicago supplied the majority of America's wholesalers with "house brand" instruments, and also had a long relationship with Montgomery-Ward catalogue. Regal Musical Instruments: 1895-1955 draws upon period trade magazines, distributor catalogues, as well as the never before published memories of Regal factory employees to paint a complete picture of the company's history. Also includes an in-depth descriptive guide to identifying and dating some of Regal's best-known instruments, highlighted by full-color photographs throughout of guitars, mandolins, ukuleles and banjos. A must-have for all collectors!
Click here for a CLOSER LOOK!
Author:
Bob Carlin
Series:
Book
Format:
Softcover
Item No:
AM00001484
UPC:
884088536084
ISBN:
1574242733
EAN:
9781574242737
Dimensions:
12" x 9"
Shipping weight:
47.3 ounces
Pages:
320
Prices and availability subject to change without notice.