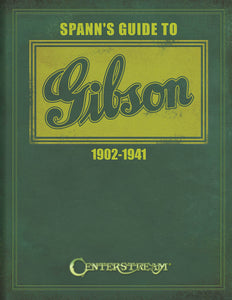 Centerstream presents this detailed look at the inner workings of the famous musical instrument manufacturer of Kalamazoo, Michigan before World War II. For the first time, Gibson fans can learn about the employees who built the instruments, exactly where the raw materials came from, the identity of parts vendors, and how the production was carried out. The book explains Gibson's pre-World War II factory order number and serial number systems, and corrects longstanding chronological errors. Previously unknown information about every aspect of the operation is covered in-depth. Noted historian Joe Spann gathered firsthand info from pre-war employees, and had access to major Gibson document collections around the world. Long time Gibson experts, as well as casual collectors, will find this volume an indispensable addition to their reference shelf.
Click here for a CLOSER LOOK!
Author:
Joe Spann
Series:
Reference
Format:
Softcover
Item No:
AM00001525
UPC:
884088575465
ISBN:
1574242679
EAN:
9781574242676
Dimensions:
11" x 8.5"
Shipping weight:
29.9 ounces
Pages:
304
Prices and availability subject to change without notice.