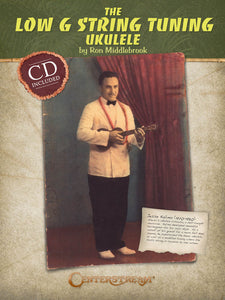 25 popular songs for the ukulele in standard music notation, tablature and easy chords. To get the most out of this book, you'll want to replace the fourth (high G) string with one of a heavier gauge and tune it an octave lower to get that full, deep sound – a lá Hawaiian uke virtuoso Jesse Kalima – in playing the melodies in this book. The chords can be played with or without the low G sound.
Click here for a CLOSER LOOK!
Arrangement:
Ukulele
Author:
Ron Middlebrook
Series:
Fretted
Format:
Softcover with CD
Item No:
AM00001534
UPC:
884088583583
ISBN:
1574242695
EAN:
9781574242690
Dimensions:
12" x 9"
Shipping weight:
7.6 ounces
Pages:
48
Prices and availability subject to change without notice.