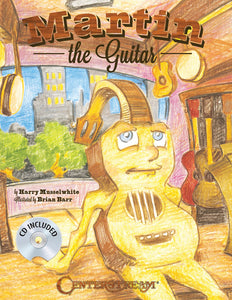 This charming children's story will delight music lovers of all ages. Little Martin the Guitar lives in Mr. Beninato's Music Store in New York City. He wants so much to be adopted and taken home by a fine musician, but the other larger instruments in the shop are always picked before him. Every night after Mr. Beninato goes home, all the instruments play for each other and compete for a place of honor in the shop. The large and loud guitar known as Big D always wins the contest. One night, Strada the Violin decides to step out of her special case and help Martin win the contest, and the two perform a duet that leaves the other instruments looking on with awe and admiration. Join Martin and all his friends for a CD of music from Mr. Beninato's Music Store! Performed on guitars, mandolins, banjos, and more, hear songs from the book entitled "Strada's Waltz," "Mr. Beninato's Music Shop," "Martin's Lullaby," and six more tunes made to bring a smile to your face and to set your toes tapping!
Click here for a CLOSER LOOK!
Author:
Harry Musselwhite
Series:
Guitar
Format:
Hardcover with CD
Item No:
AM00001601
UPC:
884088655181
ISBN:
1574242806
EAN:
9781574242805
Dimensions:
11" x 8.5"
Shipping weight:
15.3 ounces
Pages:
32
Prices and availability subject to change without notice.