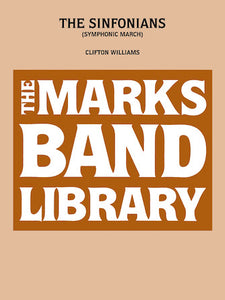 This item will be printed at the time of ordering. Please allow 3 to 6 weeks for delivery.
Originally commissioned by the Phi Mu Alpha Sinfonia Fraternity of America, this symphonic march may be Clifton Williams' most revered work. His writing style has clearly stood the test of time, always bringing out the very best of the concert band medium.

Hear an excerpt or buy on iTunes
Arrangement:
Concert Band
Composer:
Clifton Williams
Series:
Hal Leonard Concert Band Series
Item No:
AM00006999
UPC:
073999069990
Dimensions:
12" x 9"
Shipping weight:
34.3 ounces
Prices and availability subject to change without notice.
Instrumentation
| | | |
| --- | --- | --- |
| Instrument | # of Parts | Pages per Part |
| Condensed Score | 1 | 12 |
| Piccolo And 1st Flute | 3 | 2 |
| 2nd & 3rd Flute | 4 | 2 |
| Oboe | 2 | 2 |
| English Horn | 1 | 2 |
| Eb Clarinet | 1 | 2 |
| 1st Bb Clarinet | 4 | 2 |
| 2nd Bb Clarinet | 4 | 2 |
| 3rd Bb Clarinet | 4 | 2 |
| Eb Alto Clarinet | 2 | 2 |
| Bb Bass Clarinet | 2 | 2 |
| Bb & Eb Contrabass Clarinets | 2 | 2 |
| 1st & 2nd Bassoon | 2 | 2 |
| 1st & 2nd Alto Saxophone | 4 | 2 |
| Bb Tenor Sax | 2 | 2 |
| Eb Baritone Sax | 1 | 2 |
| 1st Bb Cornet/trumpet | 2 | 2 |
| 2nd Bb Cornet/trumpet | 2 | 2 |
| 3rd Bb Cornet/trumpet | 2 | 2 |
| 1st & 2nd F Horn | 2 | 2 |
| 3rd & 4th F Horn | 2 | 2 |
| 1st Trombone | 2 | 2 |
| 2nd & 3rd Trombones | 4 | 2 |
| Baritone T.c. | 1 | 2 |
| Baritone B.c. | 2 | 2 |
| Basses | 6 | 2 |
| String Bass | 1 | 2 |
| Snare Drum | 2 | 2 |
| Tenor Drum | 1 | 1 |
| Bass Drum & Cymbals | 2 | 1 |
| Bells/chimes | 1 | 1 |
| Timpani | 1 | 2 |