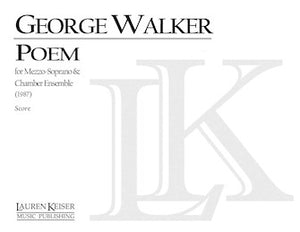 for Soprano and Chamber Ensemble
This item will be printed at the time of ordering. Please allow 3 to 6 weeks for delivery.
The The Poem for Soprano and Chamber Ensemble was commissioned by the National Endowment for the Arts through a consortium grant with Capitol Chamber Artists. The work is scored for flute, clarinet in B flat, violin, cello, harp or guitar, harpsichord, piano and a large percussion section. In addition to the solo soprano part, a bass and a light soprano are used.
Arrangement:
Chamber Ensemble
,
Soprano
Composer:
George Walker
Series:
LKM Music
Voicing:
Full Score
Item No:
AM00041302
UPC:
884088299019
Dimensions:
8.5" x 11.25"
Shipping weight:
12 ounces
Pages:
98
Prices and availability subject to change without notice.