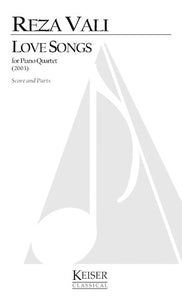 Piano Quartet
This item will be printed at the time of ordering. Please allow 3 to 6 weeks for delivery.
The violist plays 5 pitched metal wind chimes in the second movement. Composed for the Chamber Music Festival of the East, Bennington College (VT).
Arrangement:
Piano Quartet
Composer:
Reza Vali
Series:
LKM Music
Voicing:
Score & Parts
Item No:
AM00041834
UPC:
884088304331
Dimensions:
14" x 9"
Shipping weight:
6.5 ounces
Pages:
46
Prices and availability subject to change without notice.