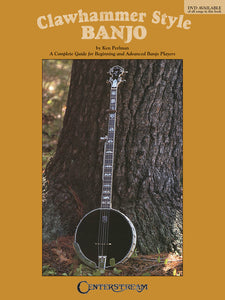 A complete guide for beginning and advanced banjo players! From Ken Perlman, here is a brilliant teaching guide that is destined to become the handbook on how to play the banjo. The style is easy to learn, and covers the instruction itself, basic right and left-hand positions, simple chords, and fundamental clawhammer techniques; the brush, the 'bumm-titty' strum, pull-offs, and slides. For the advanced player, there is instruction on more complicated picking, double thumbing, quick slides, fretted pull-offs, harmonics, improvisation, and more. The book includes more than 40 fun-to-play banjo tunes.
Click here for a CLOSER LOOK!
Arrangement:
Banjo
Author:
Ken Perlman
Series:
Banjo
Format:
Softcover
Item No:
AM00000118
UPC:
073999255065
ISBN:
931759331
EAN:
9780931759338
Dimensions:
12" x 9"
Shipping weight:
24.5 ounces
Pages:
210
Prices and availability subject to change without notice.