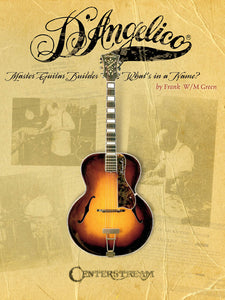 What's in a Name?
Certainly no name resonates across the spruce and maple boundaries of the classic American guitar like that of John D'Angelico, master guitar builder. Here in personal and cooperative histories, anecdotes, and first-hand accounts, Frank Green has infused the name of the master with life and vitality. Includes a 24-page color section and hundreds of rare photographs.
Click here for a CLOSER LOOK!
Author:
Frank W.M. Green
Series:
Guitar
Format:
Softcover
Item No:
AM00000202
UPC:
073999214024
ISBN:
1574242172
EAN:
9781574242171
Dimensions:
12" x 9"
Shipping weight:
27 ounces
Pages:
176
Prices and availability subject to change without notice.