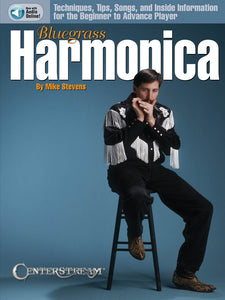 Techniques, Tips, Songs and Inside Information for the Beginner to Advanced Player
Extraordinary harpist Mike Stevens has been named Central Canadian Bluegrass Entertainer of the Year five years in a row. In this book, he teaches all the techniques, tips and inside information you need to know to play bluegrass harmonica. He covers: holding the harp, lip pursing, tongue blocking, draw bending, vibrato, attacking the notes, wind chops, and a lot more. The audio features practice tunes for beginning, intermediate and advanced players, including two versions of some of the intermediate and advanced tunes: one at standard tempo, and one slowed down for easier learning.

The audio is accessed online using the unique code inside each book and can be streamed or downloaded. The audio files include PLAYBACK+, a multi-functional audio player that allows you to slow down audio without changing pitch, set loop points, change keys, and pan left or right.
Click here for a CLOSER LOOK!
Arrangement:
Harmonica
Author:
Mike Stevens
Series:
Harmonica
Format:
Softcover Audio Online
Item No:
AM00000220
UPC:
073999401585
ISBN:
1574243489
EAN:
9781574243482
Dimensions:
12" x 9"
Shipping weight:
8.4 ounces
Pages:
64
Prices and availability subject to change without notice.