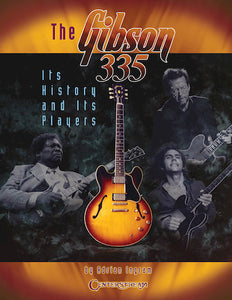 Its History and Its Players
Gibson's first "semi-acoustic" the ES-335, which was neither totally solid nor fully acoustic, is the guitar of choice used by many famous guitarists such as Andy Summers, Elvin Bishop, Lee Ritenour, Jay Graydon, Robben Ford, Freddie King, John McLaughin, Jimmy Page, Chuck Berry, Tony Mottola, Johnny Rivers, Jack Wilkins, Bono, Grant Green, Eric Clapton, Stevie Ray Vaughan, Alvin Lee, B.B. King, Emily Remler, Otis Rush, Pete Townshend, John Lee Hooker, and Larry Carlton. This book includes the complete history of the 335, the players, a beautiful color section, chronology, shipping totals and more. A must-have for every 335 player and guitar enthusiast or collector!
Author:
Adrian Ingram
Series:
Guitar
Item No:
AM00000353
UPC:
073999283136
ISBN:
1574241451
EAN:
9781574241457
Dimensions:
11" x 8.5"
Shipping weight:
12.6 ounces
Pages:
120
Prices and availability subject to change without notice.