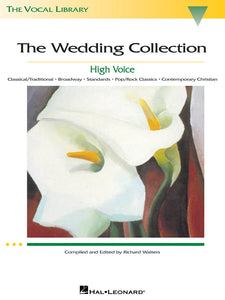 The Vocal Library High Voice
This indispensable volume is a great resource full of vast variety, useful for any singer trying to please any bride or groom. The selections are in five musical styles: classical/traditional, Broadway, standards in custom arrangements, pop/rock classics in custom arrangements, and contemporary Christian.

CLASSICAL TRADITIONAL: Alleluja (Mozart) (high voice only) • Ave Maria (Bach/Gounod) • Ave Maria (Schubert) • Bist du bei mir (Stözel) • Dank sei Dir, Herr (Ochs) • Entreat Me Not to Leave Thee (Gounod) • Jesu, Joy of Man's Desiring (Bach) • Let the bright Seraphim (Handel, with trumpet part) (high voice only) • The Lord's Prayer (Malotte) • Mein gläubiges Herz (My Heart Ever Faithful) (Bach) • Now Thank We All Our God (arr. Walters) • Panis Angelicus (Franck) • Pur ti miro, pur ti godo (Monteverdi, duet from L'incoronazione di Poppea). BROADWAY: All Good Gifts (Godspell) • All I Ask of You (duet, The Phantom of the Opera) • And This Is My Beloved (Kismet) • The Greatest of These (Philemon) • More I Cannot Wish You (Guys and Dolls) • Some Enchanted Evening (South Pacific) • Someone like You (Jekyll & Hyde) • Sunrise, Sunset (Fiddler on the Roof) • Till There Was You (The Music Man) • Unexpected Song (Song & Dance). STANDARDS: All the Way • Fly Me to the Moon (In Other Words) • I Could Write a Book • Let It Be Me (Je T'appartiens) • The Promise (I'll Never Say Goodbye) • Starting Here, Starting Now • Time After Time • Walk Hand in Hand • The Way You Look Tonight • With a Song in My Heart. POP/ROCK CLASSICS: Annie's Song • Endless Love • Grow Old with Me • Here, There and Everywhere • I Will • In My Life • We've Only Just Begun • You Are So Beautiful • You Raise Me Up. CONTEMPORARY CHRISTIAN: How Beautiful • I Will Be Here • If You Could See What I See • Love of My Life • My Place Is with You • Parent's Prayer (Let Go of Two) • This Day • This Is the Day (A Wedding Song).
Click here for a CLOSER LOOK!
Arrangement:
Vocal
Editor:
Richard Walters
Series:
Vocal Collection
Format:
Softcover
Item No:
AM00000443
UPC:
884088077501
ISBN:
1423412648
EAN:
9781423412649
Dimensions:
12" x 9"
Shipping weight:
26.7 ounces
Pages:
240
Prices and availability subject to change without notice.