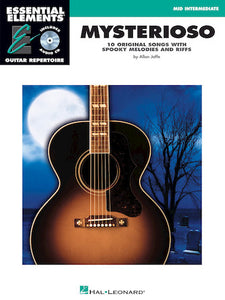 Mid Intermediate Essential Elements Guitar Repertoire
Hal Leonard's Essential Elements Guitar Repertoire Series features great original guitar music that is carefully graded and leveled for easy selection. The songs are presented in standard notation and tablature, and are fully demonstrated on the accompanying CD. Mysterioso features 10 original songs with spooky melodies and riffs.
Arrangement:
Guitar
Composer:
Allan Jaffe
Series:
Essential Elements Guitar
Format:
Softcover with CD
Item No:
AM00000471
UPC:
884088106621
ISBN:
142341957X
EAN:
9781423419570
Dimensions:
12" x 9"
Shipping weight:
6.7 ounces
Pages:
40
Prices and availability subject to change without notice.