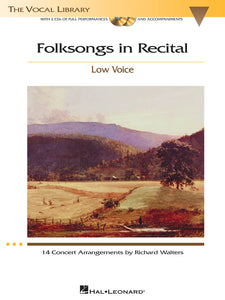 Low Voice
These are dramatic, unique art song settings of folksongs for the recital stage. Contents: How Can I Keep from Singing • Beware, Oh, Take Care • Sail Around • Once I Had a Sweetheart • Nine Hundred Miles • I Gave My Love a Cherry • Bill Groggin's Goat • Shenandoah • Single Girl • The Streets of Laredo • Johnny Songs (a 4 song cycle): I Know Where I'm Goin' • The Cruel War Is Raging • Johnny Has Gone for a Soldier • When Johnny Comes Marchin' Home.
Click here for a CLOSER LOOK!
Arrangement:
Piano
,
Vocal
Editor:
Richard Walters
Series:
Vocal Collection
Format:
Softcover with CD
Item No:
AM00000474
UPC:
884088113322
ISBN:
1423421353
EAN:
9781423421351
Dimensions:
12" x 9"
Shipping weight:
12.8 ounces
Pages:
88
Prices and availability subject to change without notice.