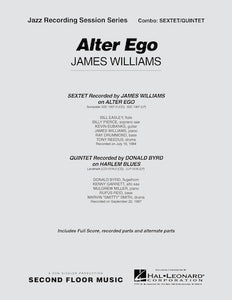 Quintet/Sextet
From the James Williams CD "Alter Ego" (Sunnyside 1007) this beautiful arrangement features lush harmonies and a moderate tempo. The recording features a front line of Flute, Soprano Sax, and Guitar; however a more traditional instrumentation works effectively as well.
Arrangement:
Jazz Ensemble
Composer:
James Williams
Series:
Second Floor Music-Jazz
Item No:
AM00000608
UPC:
073999006087
Dimensions:
11" x 8.5"
Shipping weight:
7.1 ounces
Prices and availability subject to change without notice.
Instrumentation
| | | |
| --- | --- | --- |
| Instrument | # of Parts | Pages per Part |
| Full Score | 1 | 8 |
| 1st Part: Flute | 1 | 2 |
| 1st Part: Trumpet | 1 | 2 |
| 1st Part: Alto Sax | 1 | 2 |
| 2nd Part: Soprano Sax | 1 | 2 |
| 2nd Part: Alto Sax | 1 | 2 |
| 2nd Part: Trombone | 1 | 2 |
| 3rd Part: Guitar | 1 | 2 |
| 3rd Part: Tenor Sax | 1 | 2 |
| 3rd Part: Trombone | 1 | 2 |
| 3rd Part: Bari Sax | 1 | 2 |
| Bass | 1 | 2 |
| Drums | 1 | 1 |
| Guitar | 1 | 2 |
| Piano | 1 | 3 |