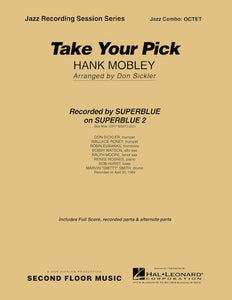 Octet
In this medium up-tempo swing chart, the unison melodic phrase is completed by the full ensemble which then builds to the solo section. The solo changes are well suited for less experienced players. Recorded by the group Superblue on "Superblue 2" (Blue Note: CDP 92997 2).
Arrangement:
Jazz Combo
Composer:
Hank Mobley
Arranger:
Don Sickler
Series:
Second Floor Music-Jazz
Item No:
AM00000698
UPC:
073999489040
Dimensions:
11" x 8.5"
Shipping weight:
9.8 ounces
Prices and availability subject to change without notice.
Instrumentation
| | | |
| --- | --- | --- |
| Instrument | # of Parts | Pages per Part |
| Full Score | 1 | 12 |
| Trumpet 1 | 1 | 2 |
| Trumpet 2 | 1 | 2 |
| Alto Sax (2nd Part) | 1 | 2 |
| Alto Sax (3rd Part) | 1 | 2 |
| Tenor Sax 3 | 1 | 2 |
| Tenor Sax 4 | 1 | 3 |
| Trombone (4th Part) | 1 | 3 |
| Trombone (5th Part) | 1 | 3 |
| Baritone Sax (5th Part) | 1 | 3 |
| Piano | 1 | 3 |
| Bass | 1 | 3 |
| Drums | 1 | 2 |
| Guitar | 1 | 3 |