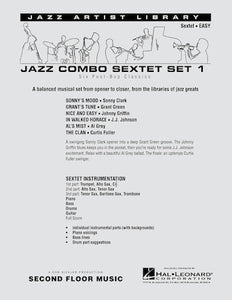 Scored for 3 horns with flexible instrumentation plus rhythm section, this set of combo arrangements features written out piano voicings and bass lines as well as drum part suggestions and horn backgrounds for solos. Includes: Sonny's Mood (Sonny Clark), Grant's Tune (Grant Green), Nice and Easy (Johnny Griffin), In Walked Horace (J.J. Johnson), Al's Mist (Al Grey) and The Clan (Curtis Fuller).
Arrangement:
Jazz Ensemble
Composer:
Various
Series:
Second Floor Music-Jazz
Voicing:
Score & Parts
Format:
Softcover
Item No:
AM00000939
UPC:
073999899283
Dimensions:
11" x 8.5"
Shipping weight:
25.6 ounces
Prices and availability subject to change without notice.
Instrumentation
| | | |
| --- | --- | --- |
| Instrument | # of Parts | Pages per Part |
| Conductor Score (full Score) | 1 | 8 |
| Trombone 1 | 1 | 2 |
| Bb Trumpet 1 | 1 | 2 |
| Tenor Sax 1 | 1 | 2 |
| Eb Alto Sax 1 | 1 | 2 |
| C Treble Clef (1st Part) | 1 | 2 |
| Tenor Sax 2 | 1 | 2 |
| Baritone Sax | 1 | 2 |
| Trombone 2 | 1 | 2 |
| C Treble Clef (2nd Part) | 1 | 2 |
| Piano | 1 | 3 |
| Bass | 1 | 2 |
| Drums | 1 | 2 |
| Guitar | 1 | 2 |