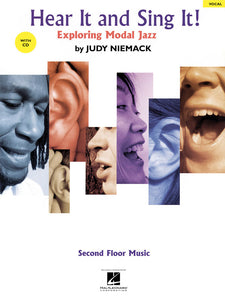 Exploring Modal Jazz
This item is temporarily out of stock. Please bookmark this page and check back later or contact us for a possible ETA.
This great book/CD pack is an effective and fun way to improve your vocal technique and internalize the basic scales used in jazz. Designed for jazz singers, students of improvisation or ear training, choir directors and teachers of vocal jazz, it's an enjoyable way to learn the modes thoroughly and discover their possibilities. The CD includes vocal warm-ups suitable for all levels, exercises in each mode of the major scale, rhythm section tracks without vocals for improvisation, and more. The book includes transcriptions of the warm-ups, a brief history of modal jazz, theory basics, the modes of the major scale, scat syllables, transcriptions of the modal workouts, and more.
Click here for a CLOSER LOOK!
Arrangement:
Vocal
Author:
Judy Niemack
Series:
Vocal Collection
Item No:
AM00001001
UPC:
073999974577
ISBN:
634080997
EAN:
9780634080999
Dimensions:
12" x 9"
Shipping weight:
10 ounces
Pages:
72
Prices and availability subject to change without notice.