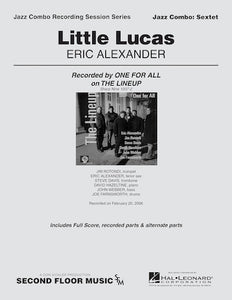 Sextet
Note from the composer: Little Lucas is dedicated to my 2 year-old son. It is a happy medium swinger that captures his mischievous nature with the deceptively difficult movement of major 7th chords in the A sections. The melody notes are, for the most part, the 7th of each chord and these notes follow a diminished scale sequence--going up a half-step and then down a major third repetitively. The B section features a 2 five sequence that moves in major thirds. Originally, I wrote this tune for a quartet date. For this arrangement I added a line played by the bass and piano at the end of each A section and voiced out the horns in open drop 2 voicings for a clear and cheery sound.
Arrangement:
Jazz Ensemble
Composer:
Eric Alexander
Series:
Second Floor Music-Jazz
Item No:
AM00001096
UPC:
884088145484
Dimensions:
11" x 8.5"
Shipping weight:
6.2 ounces
Prices and availability subject to change without notice.
Instrumentation
| | | |
| --- | --- | --- |
| Instrument | # of Parts | Pages per Part |
| Conductor Score (full Score) | 1 | 8 |
| Trumpet (1st Part) | 1 | 2 |
| Alto Sax (1st Part) | 1 | 2 |
| C Treble Clef (1st Part) | 1 | 2 |
| Tenor Sax (2nd Part) | 1 | 2 |
| Alto Sax (2nd Part) | 1 | 2 |
| Trombone (3rd Part) | 1 | 2 |
| Tenor Sax (3rd Part) | 1 | 2 |
| Baritone Sax (3rd Part) | 1 | 2 |
| Bass | 1 | 2 |
| Drums | 1 | 1 |
| Guitar | 1 | 2 |
| Piano | 1 | 3 |