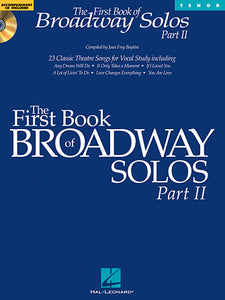 Tenor Edition
More great theatre literature especially useful with young singers, compiled by vetern voice teacher Joan Frey Boytim. These collections are at the same level as the original volumes, with no song duplications, and again stress traditional lyric singing. There are 20-23 songs per volume, with a different song list for each voice type.

Contents: Any Dream Will Do • Anyone Can Whistle • The Big Black Giant • Close Every Door to Me • Do I Love You Because You're Beautiful? • Follow Me • I, Huckleberry, Me • If I Loved You • It Only Takes a Moment • Little Red Hat • A Lot of Livin' to Do • Love Changes Everything • Lucky in Love • Manhattan • Miracle of Miracles • The Most Beautiful Girl in the World • One Alone • Passeggiata • Sarah • That Great Come and Get It Day • The Tree • You Are Beautiful • You Are Love.
Arrangement:
Vocal
Editor:
Joan Frey Boytim
Series:
Vocal Collection
Format:
Softcover with CD
Item No:
AM00001113
UPC:
884088150969
ISBN:
1423427122
EAN:
9781423427124
Dimensions:
12" x 9"
Shipping weight:
14 ounces
Pages:
104
Prices and availability subject to change without notice.