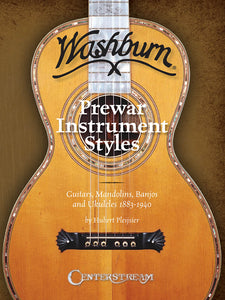 Pre-War Instruments Styles, Guitars, Mandolins, Banjos and Ukuleles 1883-1940
The vintage guitar collecting market continues to grow. This book is the first of its kind to report on Washburn guitars, mandolins, banjos and ukuleles made before 1940. It contains detailed information about more than 450 instrument styles, serial numbering schemes and estimated production totals. A gorgeous 32-page color photo section of the most collectibles will make this book a "must" for players and collectors alike.
Click here for a CLOSER LOOK!
Author:
Hubert Pleijsier
Series:
Reference
Format:
Softcover
Item No:
AM00001176
UPC:
884088210052
ISBN:
157424227X
EAN:
9781574242270
Dimensions:
12" x 9"
Shipping weight:
32.3 ounces
Pages:
272
Prices and availability subject to change without notice.