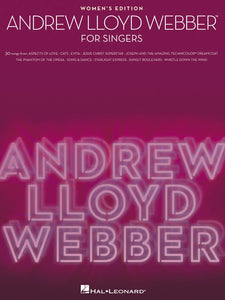 30 Songs - Women's Edition
30-song collection for voice and piano, with special attention paid to singer-friendly keys. Contents: All I Ask of You • Amigos Para Siempre (Friends for Life) • Another Suitcase in Another Hall • Anything but Lonely • As If We Never Said Goodbye • Buenos Aires • Capped Teeth and Caesar Salad • Don't Cry for Me Argentina • Gus: the Theatre Cat • I Don't Know How to Love Him • Jacob and Sons • The Last Man in My Life • Learn to Be Lonely • Let Me Finish • Make up My Heart • Memory • Next Time You Fall in Love • Nothing like You've Ever Known • The Perfect Year • Surrender • Take That Look off Your Face • Tell Me on a Sunday • There Is More to Love • Think of Me • Too Much in Love to Care • Unexpected Song • Whistle down the Wind • Wishing You Were Somehow Here Again • With One Look • You Must Love Me.
Click here for a CLOSER LOOK!
Arrangement:
Piano
,
Voice
Composer:
Andrew Lloyd Webber
Series:
Vocal Collection
Format:
Softcover
Item No:
AM00001184
UPC:
884088223694
ISBN:
1423436733
EAN:
9781423436737
Dimensions:
12" x 9"
Shipping weight:
18.8 ounces
Pages:
160
Prices and availability subject to change without notice.