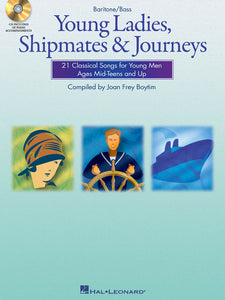 Baritone/Bass Book/CD Pack
21 songs in English for progressing singers, supplementing the song choices in Easy Songs for Beginning Singers and The First Book of Solos series.



Contents: Barbara Allen (Quilter) • The Bay of Biscay (Davy) • Blackbirds and Thrushes (Sharp) • The Coasts of High Barbary (Sharp) • Come Let's Be Merry (Wilson) • The Duke of Bedford (Sharp) • Farewell, Nancy (Sharp) • Gentle Annie (Foster) • I Am a Pirate King (Sullivan) • I Want What I Want When I Want It (Herbert) • The Law is the True Embodiment (Sullivan) • The Midshipmite (Adams) • My Generous Heart Disdains (Hopkinson) • Nothing But a Plain Old Soldier (Foster) • The Old Road (Scott) • Punchinello (Molloy) • The Rambling Sailor (Sharp) • Shipmates o' Mine (Sanderson) • The Song of Brother Hilario (Cox) • Three Poor Mariners (Quilter) • While the Foaming Billows Roll (Wilson).
Click here for a CLOSER LOOK!
Arrangement:
Voice
Composer:
Various
Editor:
Joan Frey Boytim
Series:
Vocal Collection
Format:
Softcover with CD
Item No:
AM00001191
UPC:
884088242589
ISBN:
1423439554
EAN:
9781423439554
Dimensions:
12" x 9"
Shipping weight:
12.8 ounces
Pages:
96
Prices and availability subject to change without notice.