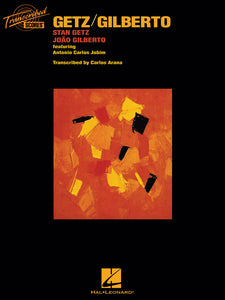 Stan Getz & Joao Gilberto, featuring Antonio Carlos Jobim
This folio transcribes every note by every instrument on the ground-breaking 1965 bossa nova masterpiece that won the Grammy Award for Best Album of the Year and produced the classic standard "The Girl from Ipanema" which also won a Grammy for Record of the Year. It features Stan Getz on saxophone, Joao Gilberto on guitar, and Antonio Carlos Jobim on piano. 8 songs, including: Desafinado • Doralice • The Girl from Ipanema (Garôta De Ipanema) • O Grande Amor • Para Machuchar Meu Coracao • Quiet Nights of Quiet Stars (Corcovado) • Só Danço Samba (Jazz 'N' Samba) • Vivo Sonhando (Dreamer).
Click here for a CLOSER LOOK!
Arrangement:
Guitar
,
Piano/Keyboard
,
Saxophone
Artist:
Joao Gilberto
Artist:
Stan Getz
Composer:
Antonio Carlos Jobim
Series:
Transcribed Score
Format:
Softcover
Item No:
AM00001333
UPC:
884088483647
ISBN:
1423475348
EAN:
9781423475347
Dimensions:
12" x 9"
Shipping weight:
18.8 ounces
Pages:
160
Prices and availability subject to change without notice.