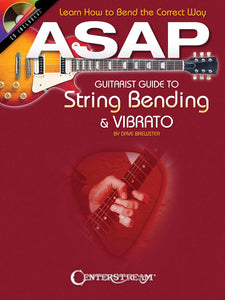 Learn How to Bend the Correct Way
String bending and vibrato are two of the most popular guitar techniques used in all musical styles, yet for most beginning and intermediate players, gaining control of them might seem overwhelming. This book outlines some of the most common bending and vibrato techniques and licks, teaching them in an easy-to-digest manner to help you see and hear how to use them with confidence in a musical context. Contains more than 150 helpful examples!
Click here for a CLOSER LOOK!
Arrangement:
Guitar
Author:
Dave Brewster
Series:
Guitar
Format:
Softcover with CD
Item No:
AM00001347
UPC:
884088504861
ISBN:
1574242555
EAN:
9781574242553
Dimensions:
12" x 9"
Shipping weight:
6.9 ounces
Pages:
40
Prices and availability subject to change without notice.