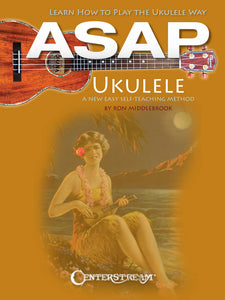 Learn How to Play the Ukulele Way
This easy new method will teach you the ukulele ASAP! First, take a few moments to learn the parts of the instrument, the different types of ukes, the correct holding position, and how to tune up. Each exercise in the book has been designed to teach you the most popular key chord combinations and patterns that you'll see in hundreds of songs. The tunes taught here include: Auld Lang Syne • My Bonnie Lies over the Ocean • Oh! Susanna • Peg of My Heart • Red River Valley • Tiger Rag • and many more. You can strum the chords for each, or play the easy-to-follow melody.
Click here for a CLOSER LOOK!
Arrangement:
Ukulele
Author:
Ron Middlebrook
Series:
Fretted
Format:
Softcover
Item No:
AM00001359
UPC:
884088516000
ISBN:
157424258X
EAN:
9781574242584
Dimensions:
12" x 9"
Shipping weight:
6.2 ounces
Pages:
44
Prices and availability subject to change without notice.