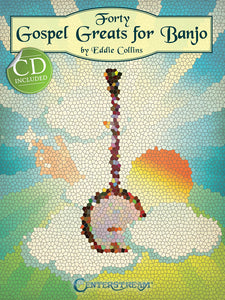 When you hear "gospel banjo," you might think about tunes heard at every bluegrass festival, played in the Southern gospel tradition. But author Eddie Collins breaks new ground with this collection: of the 40 popular songs included, nearly 20 of them have not been previously arranged for banjo! Lyrics are below each melody note to give the player a sense of where to stress notes to bring out the melody above the fill-notes of the rolls. Each song is played on the CD!
Click here for a CLOSER LOOK!
Arrangement:
Banjo
Author:
Eddie Collins
Series:
Banjo
Format:
Softcover with CD
Item No:
AM00001497
UPC:
884088547462
ISBN:
1574242636
EAN:
9781574242638
Dimensions:
12" x 9"
Shipping weight:
9.7 ounces
Pages:
68
Prices and availability subject to change without notice.