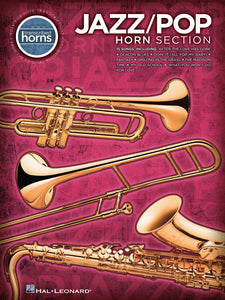 Transcribed Horns
Imagine playing the exact parts of some of the most memorable and consequential songs of our time note-for-note, exactly as the legends played them. This unique new series features transcriptions of all the horn parts included on the original recordings with a separate staff for each horn. Perfect for cover bands! The books also include vocal melody lines, complete lyrics, and chord symbols. This volume features 15 pop/jazz favorites: After the Love Has Gone • Birdland • Deacon Blues • Doin' It (All for My Baby) • Fantasy • Got to Get You into My Life • Grazing in the Grass • In the Navy • The Madison Time • My Old School • Spanish Flea • Tell Her About It • Tijuana Taxi • What You Won't Do for Love • You Can't Get What You Want (Till You Know What You Want).
Click here for a CLOSER LOOK!
Arrangement:
Saxophone
,
Trombone
,
Trumpet
Artist:
Various
Series:
Transcribed Horns
Format:
Softcover
Item No:
AM00001503
UPC:
884088551599
ISBN:
1617804738
EAN:
9781617804731
Dimensions:
12" x 9"
Shipping weight:
19.7 ounces
Pages:
176
Prices and availability subject to change without notice.