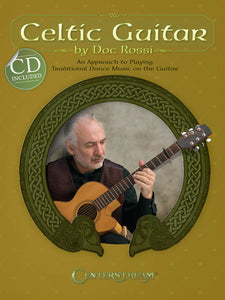 An Approach to Playing Traditional Dance Music on the Guitar
Doc Rossi, a well-known citternist and guitarist in traditional and early music, has created this book for intermediate to advanced players wishing to improve their technique and learn new repertoire. He's chosen tunes from England, France, Flanders, North America and Corsica to reflect the broad range of the instrument. He teaches right- and left-hand techniques, ornamentation, arranging and other topics, as well as his own unique tuning to make playing traditional music easier. The CD features all of the tunes played at medium tempo.
Click here for a CLOSER LOOK!
Arrangement:
Guitar
Author:
Doc Rossi
Series:
Guitar
Format:
Softcover with CD
Item No:
AM00001513
UPC:
884088568894
ISBN:
1574242660
EAN:
9781574242669
Dimensions:
12" x 9"
Shipping weight:
11.2 ounces
Pages:
80
Prices and availability subject to change without notice.