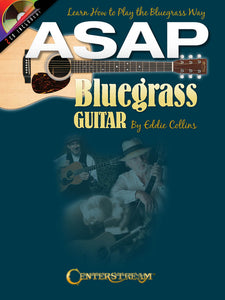 Learn How to Play the Bluegrass Way
ASAP Bluegrass Guitar is designed for folks wishing to become highly proficient bluegrass players. You'll be able to combine sophisticated left-hand fingerings with both simple and intricate right-hand picking patterns. Appropriate for beginning guitar players or more experienced players wishing to learn specifics and songs in the bluegrass style. With this book and the accompanying 2 CDs you'll learn the basics, single-note melodies, how to embellish basic melodies, embellish melodies by adding notes from the major scale, embellishing melodies with added chords strums, Carter-style playing, shuffle rhythm patterns, alternate bass strumming, the blues in bluegrass, intros, turnarounds and endings, using the capo, cross picking, improvising a solo, practicing effectively, and much more!

Some of the more popular bluegrass songs you'll learn are: Billy in the Lowground • New River Train • Wildwood Flower • Foggy Mountain Blues • Clinch Mountain Blues • Red Haired Boy • Forked Deer • Bill Cheatham • All the Good Times Past and Gone • Blackberry Blossom • Temperance Reel • Salt Creek • Devil's Dream • June Apple • Black Mountain Rag • Saint Anne's Reel • Banks of the Ohio • Beaumont Rag • Salty Dog Blues • John Henry • and many more. Start playing bluegrass guitar...ASAP!
Click here for a CLOSER LOOK!
Arrangement:
Guitar
Author:
Eddie Collins
Series:
Guitar
Format:
Softcover with CD
Item No:
AM00001582
UPC:
884088624453
ISBN:
157424275X
EAN:
9781574242751
Dimensions:
12" x 9"
Shipping weight:
17.1 ounces
Pages:
128
Prices and availability subject to change without notice.