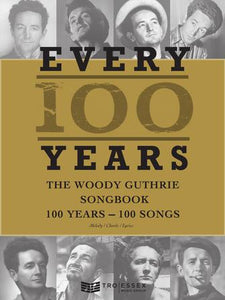 100 Years - 100 Songs
2012 would have been the 100th birthday of American singer/songwriter Woody Guthrie. To mark his extraordinary achievements in songwriting, we are releasing this souvenir centennial songbook. Woody Guthrie wrote over 3,000 songs in his lifetime, yet only 300 or so were ever recorded. At the invitation of Guthrie's daughter, Nora Guthrie, contemporary singer/songwriters have set music to Guthrie's previously unpublished lyrics. Musicians such as Billy Bragg, Wilco, Dropkick Murphys, Jonatha Brooke, Jay Farrar, Tom Morello, Lou Reed, The Klezmatics, Hans-Eckardt Wenzel, Madeleine Peyroux, Janis Ian, Sarah Lee Guthrie & Johnny Irion, and Woody's son, Arlo Guthrie, have shown us how timeless Woody's words are.

Every 100 Years is a compilation of 100 Woody Guthrie songs that run the gamut from work songs, love songs and union & protest songs, to topical songs and children's songs. The book features his classics such as: This Land Is Your Land • Jesus Christ • Do Re Mi • Pretty Boy Floyd • Roll On Columbia • Pastures of Plenty • Deportee • Riding in My Car • and more, as well as hits from the next generation of Guthrie co-authors: California Stars • I'm Shippin' Up to Boston • The Jolly Banker • Way Over Yonder in the Minor Key • Hoodoo Voodoo • Ease My Revolutionary Mind • Ingrid Bergman • My Peace • Mermaid's Avenue • Happy Joyous Hanukkah • Every 100 Years • and many others. Includes a preface from Howie Richmond, founder of The Richmond Organization – Guthrie's publisher, as well as other commentary from friends, family, and Woody himself along with photos and facsimiles of Guthrie's original drawings and hand-written lyrics.
Click here for a CLOSER LOOK!
Arrangement:
Melody/Lyrics/Chords
Artist:
Woody Guthrie
Series:
Richmond Music ¯ Folios
Format:
Softcover
Item No:
AM00001585
UPC:
884088629366
ISBN:
1458420744
EAN:
9781458420749
Dimensions:
12" x 9"
Shipping weight:
15 ounces
Pages:
130
Prices and availability subject to change without notice.