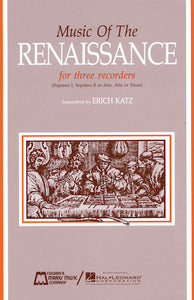 Score & Parts
This item is temporarily out of stock. Please bookmark this page and check back later or contact us for a possible ETA.
Playable by various combinations of three recorders.

Contents: Allemande • Ayre (Cavendish) • Basse Danse • Benedictus (Certon) • Benedictus (Di Lasso) • Carmen (Isaac) • Chanson (Le Jeune) • Conzona (Kugelmann) • Easter Hymn (Walther) • Flemish Song • A Gigg (Byrd) • Hymnus (Dufay) • Pavana (Milan) • Psalm V (Di Lasso) • Rondeau (Compere) • Sacred Song (Le Maistre) • Song from Locheimer Liederbuch • Villancico (de La Torre) • Villanella (Lechner).
Arrangement:
Recorder
,
Recorder Trio
Composer:
Various
Series:
Recorder Ensemble
Item No:
AM00006059
UPC:
073999060591
Dimensions:
10.5" x 6.75"
Shipping weight:
2.5 ounces
Pages:
24
Prices and availability subject to change without notice.