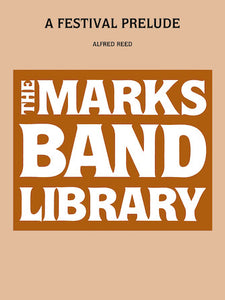 Composed nearly 50 years ago (1957), this masterpiece from the late Alfred Reed displays his characteristic style and total command of wind band orchestration. Composed using a single theme and two fanfare figures that are woven throughout, this concise work stands out as a true classic in the repertoire. (4:30)

This recording used with permission from the Klavier Music Productions CD K 11130. "Alfred Reed Live! Volume 4 – Acclamation!" by the Otonowa Wind Symphonica – Toro Ito, conductor
Arrangement:
Concert Band
Composer:
Alfred Reed
Series:
Hal Leonard Concert Band Series
Item No:
AM00006781
UPC:
073999067811
Dimensions:
12" x 9"
Shipping weight:
35.7 ounces
Prices and availability subject to change without notice.
Instrumentation
| | | |
| --- | --- | --- |
| Instrument | # of Parts | Pages per Part |
| Full Score | 1 | 28 |
| C Piccolo | 1 | 3 |
| 1st & 2nd Flute | 6 | 3 |
| 1st & 2nd Oboe | 2 | 3 |
| Eb Clarinet | 1 | 3 |
| 1st Bb Clarinet | 4 | 3 |
| 2nd Bb Clarinet | 4 | 3 |
| 3rd Bb Clarinet | 4 | 3 |
| Eb Alto Clarinet | 2 | 3 |
| Bb Bass Clarinet | 2 | 2 |
| Eb Contra Alto Clarinet | 1 | 2 |
| Bb Contra Bass Clarinet | 1 | 2 |
| 1st & 2nd Bassoon | 2 | 2 |
| 1st Eb Alto Saxophone | 2 | 3 |
| 2nd Eb Alto Saxophone | 2 | 3 |
| Bb Tenor Saxophone | 2 | 2 |
| Eb Baritone Saxophone | 1 | 2 |
| 1st & 2nd F Horn | 2 | 2 |
| 3rd & 4th F Horn | 2 | 2 |
| 1st & 2nd Bb Cornet | 4 | 3 |
| 1st Bb Trumpet | 2 | 2 |
| 2nd Bb Trumpet | 2 | 2 |
| 3rd Bb Trumpet | 2 | 2 |
| 1st Trombone | 2 | 2 |
| 2nd Trombone | 2 | 2 |
| 3rd Trombone | 2 | 2 |
| Baritone T.c. | 1 | 2 |
| Baritone B.c. | 2 | 2 |
| Tuba | 6 | 2 |
| String Bass | 1 | 2 |
| Timpani | 1 | 2 |
| Snare Drum/bass Drum | 2 | 2 |
| Percussion | 2 | 2 |