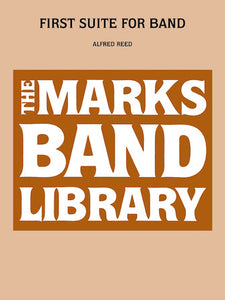 This item will be printed at the time of ordering. Please allow 3 to 6 weeks for delivery.
I.March II. Melody III. Rag IV. Galop
Arrangement:
Concert Band
Composer:
Alfred Reed
Series:
Hal Leonard Concert Band Series
Item No:
AM00006787
UPC:
073999067873
Dimensions:
12" x 9"
Shipping weight:
58.9 ounces
Prices and availability subject to change without notice.
Instrumentation
| | | |
| --- | --- | --- |
| Instrument | # of Parts | Pages per Part |
| Full Score | 1 | 56 |
| Piccolo/flute 3 | 1 | 8 |
| Flute 1 | 3 | 8 |
| Flute 2 | 3 | 8 |
| Oboe 1 | 1 | 8 |
| 2nd Oboe | 1 | 8 |
| English Horn | 1 | 4 |
| Eb Clarinet | 1 | 4 |
| Bb Clarinet 1 | 4 | 8 |
| Bb Clarinet 2 | 4 | 8 |
| Bb Clarinet 3 | 4 | 8 |
| Eb Alto Clarinet | 2 | 8 |
| Bb Bass Clarinet | 2 | 8 |
| Bb Contra Bass Clarinet | 1 | 4 |
| Eb Contra Bass Clarinet | 1 | 8 |
| Bassoon 1 | 1 | 4 |
| Bassoon 2 | 1 | 4 |
| Eb Alto Saxophone | 2 | 8 |
| 2nd Eb Alto Saxophone | 2 | 8 |
| Bb Tenor Sax | 2 | 8 |
| Eb Baritone Saxophone | 1 | 4 |
| 1st & 2nd F Horn | 2 | 4 |
| 3rd & 4th F Horn | 2 | 4 |
| Bb Trumpet 1 | 3 | 4 |
| Bb Trumpet 2 | 3 | 4 |
| Bb Trumpet 3 | 3 | 8 |
| 1st & 2nd Bb Cornet | 2 | 8 |
| 1st Trombone | 2 | 4 |
| 2nd Trombone | 2 | 4 |
| 3rd Trombone | 2 | 4 |
| Baritone T.c. | 1 | 8 |
| Baritone B.c. | 2 | 8 |
| Basses (tubas) | 6 | 8 |
| String Bass | 1 | 4 |
| Timpani | 1 | 4 |
| Aux. Percussion 1 | 2 | 8 |
| Aux. Percussion 2 | 2 | 4 |
| Percussion 3 | 2 | 8 |
| Harp | 1 | 4 |