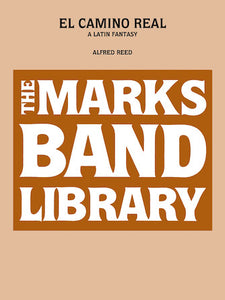 El Camino Real ("The Royal Road" or "The King's Highway") was commissioned by the 581st Air Force Band and its commander, Lt. Col. Ray E. Toler. This fantasy is based on a series of Spanish folk melodies and underscored by chord progressions used by generations of flamenco guitarists, whose fiery style and brilliant playing have created a vast body of what many consider authentic Spanish music.

The music follows a traditional fast-slow-fast pattern, with a first section that is based on the dance form known as the jota, and second contrasting section derived from the fandango.
Arrangement:
Concert Band
Composer:
Alfred Reed
Series:
Hal Leonard Concert Band Series
Voicing:
Score & Parts
Item No:
AM00007247
UPC:
073999072471
Dimensions:
12" x 9"
Shipping weight:
50.5 ounces
Prices and availability subject to change without notice.
Instrumentation
| | | |
| --- | --- | --- |
| Instrument | # of Parts | Pages per Part |
| Full Score | 1 | 56 |
| Piccolo/flute 3 | 3 | 4 |
| Flute 1 | 3 | 4 |
| Flute 2 | 3 | 4 |
| Oboe 1 | 1 | 4 |
| Oboe 2 | 1 | 4 |
| English Horn | 1 | 4 |
| Eb Clarinet | 2 | 4 |
| Bb Clarinet 1 | 4 | 8 |
| Bb Clarinet 2 | 4 | 8 |
| Bb Clarinet 3 | 4 | 8 |
| Eb Alto Clarinet | 2 | 4 |
| Bb Bass Clarinet | 2 | 4 |
| Bb Contra Bass Clarinet | 1 | 3 |
| 1st Bassoon | 1 | 4 |
| 2nd Bassoon | 1 | 4 |
| Contra Bassoon | 1 | 3 |
| Eb Alto Saxophone 1 | 2 | 8 |
| Eb Alto Saxophone 2 | 2 | 4 |
| Bb Tenor Saxophone | 2 | 4 |
| Eb Baritone Saxophone | 1 | 4 |
| 1st F Horn | 1 | 4 |
| 2nd F Horn | 1 | 4 |
| 3rd F Horn | 1 | 4 |
| 4th F Horn | 1 | 4 |
| Bb Trumpet 1 | 3 | 3 |
| Bb Trumpet 2 | 3 | 3 |
| Bb Trumpet 3 | 3 | 3 |
| Bb Cornet 1 | 1 | 3 |
| Bb Cornet 2 | 1 | 3 |
| Trombone 1 | 2 | 4 |
| Trombone 2 | 2 | 4 |
| Trombone 3 | 2 | 4 |
| Baritone T.c. | 2 | 4 |
| Baritone B.c. | 2 | 4 |
| Basses (tubas) | 6 | 4 |
| String Bass | 1 | 4 |
| Timpani | 1 | 4 |
| Percussion 1 | 2 | 4 |
| Percussion 2 | 1 | 2 |
| Percussion 3 | 2 | 3 |
| Percussion 4 | 2 | 8 |
| Harp/piano | 1 | 4 |