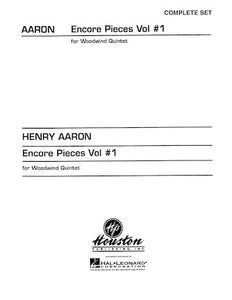 Complete Set
This wonderful collection of Woodwind Quintet Encores was originally arranged for the Chicago Symphony Woodwind Quintet whose members included: Ralph Johnson, Robert Mayer, Jerome Stowall, Philip Farkas, and Wilbur Simpson. Several of these selections were recorded by the Chicago Symphony Woodwind Quintet album entitled Encore! (Audiophile AP17). Absolutely perfect for concert or contest!

Includes: Humoresque (Tchaikowsky) • The Girl with the Flaxen Hair (Debussy) • Capriccio (Haydn) • Diary of a Fly (Bartók) • Scarf Dance (Chaminade) • In Autumn (MacDowell) • Scherzo in E Minor (Mendelssohn) • Polka (Shostakovich) • Norwegian Dance (Grieg) • Gopak (Moussorgsky) • Funeral March of the Marionette (Gounod) • Tritsch-Tratsch Polka (J. Strauss).
Arrangement:
Woodwind Quintet
Arranger:
Henry Aaron
Series:
Houston Publishing
Item No:
AM00030062
UPC:
073999300628
ISBN:
1476818533
EAN:
9781476818535
Dimensions:
12" x 9"
Shipping weight:
29.6 ounces
Pages:
245
Prices and availability subject to change without notice.