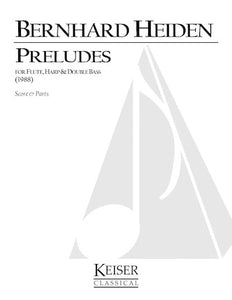 for Clarinet, Bass Clarinet, Piano, Violin and Cello
This item will be printed at the time of ordering. Please allow 3 to 6 weeks for delivery.
(untitled) was the name of a store in the SoHo section of Manhattan that sold nothing but art postcards -- thousands of them. I had three such postcards taped to the music rack of my piano and one day in early 1968 I decided to write a set of musical miniatures somehow depicting these paintings. The first, "Perro ladrando a la luna" by Miró, is the most literal. The opening sustained chord represents the horizon line, the rising clarinet duo is a ladder with five rungs (the piano chords). The piano tremolo at the end is the moon shining, and the violin, as the dog, barks at it. I consider this piece to be my Opus Zero, the first piece where I managed to achieve my musical goals.
Arrangement:
Cello
,
Clarinet
,
Piano
,
Violin
,
Bass Clarinet
Composer:
Stephen Hartke
Series:
LKM Music
Voicing:
Full Score
Item No:
AM00040574
UPC:
884088291730
Dimensions:
11" x 8.5"
Shipping weight:
2.7 ounces
Pages:
16
Prices and availability subject to change without notice.