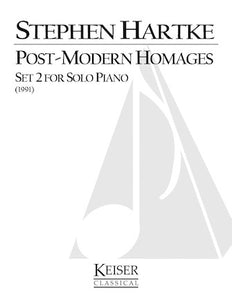 Piano Solo
This item will be printed at the time of ordering. Please allow 3 to 6 weeks for delivery.
There is also a solo guitar piece available called Un tout petit trompe l'oreille that is the original version of the third movement of áPost - Modern Homages Set II.
Arrangement:
Piano
Composer:
Stephen Hartke
Series:
LKM Music
Item No:
AM00041651
UPC:
884088302504
Dimensions:
11" x 8.5"
Shipping weight:
2.7 ounces
Pages:
16
Prices and availability subject to change without notice.