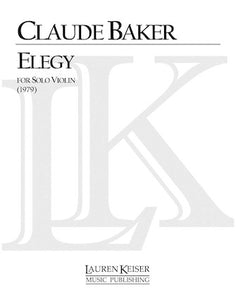 Violin Solo
This item will be printed at the time of ordering. Please allow 3 to 6 weeks for delivery.
Elegy has been performed throughout North America and Europe by over twenty-five artists, including Levon Ambartsumian (Moscow State Conservatory), Jacques Israelievitch (Toronto Symphony), and Silvian Iticovici (Saint Louis Symphony). Unaccompanied.
Arrangement:
Violin
,
Piano Accompaniment
Composer:
Claude Baker
Series:
LKM Music
Item No:
AM00041863
UPC:
884088304621
Dimensions:
14" x 11"
Shipping weight:
2.9 ounces
Pages:
8
Prices and availability subject to change without notice.